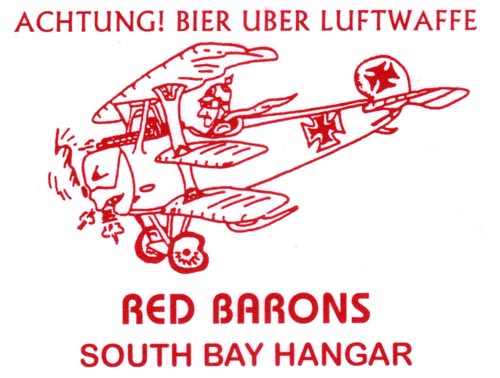 Revised 4-3-06
RED BARON'S SOUTH BAY HANGER HOME PAGE
Co-Staffel Barons: Baron Hayword von Thomas, Baron Dick von McKay, Baron Ted von Stinis &
Baron Sandy von Freidfeld (Speaker Aquisition)
Staffel Baron Emeritis: Baron Mac McNicol
email any of the above for more information
Meetings the first Friday of each Month at 1200 hours
Bar and hanger talk open at 1100 hours
at the Elk's Club: 1748 Cumbre Drive, San Pedro, CA 310-831-0624
Our next speaker Friday April 7th will be Baron Ed von Gilroy
please see newsletter below for full info
************************************************************************************
Our April 2006 Newsletter
Usually updated a week before the next meeting
Next meeting, Friday April 7th, 2006
Our speaker last month was Trevor Constable, best known for his collaboration with Colonel Raymond F Toliver, USAF Ret, on a series of aviation books dealing primarily with fighter aviation and fighter pilots. Trevor was born in New Zealand, but has been a US Citizen for over 50 years. His "colorful career" included 31 years of service as a merchant marine Radio Officer, 26 of them in the US Merchant Marine, from which he retired in 1992. Trevor, spoke about his long time friendship with Luftwaffe pilot, ace and General, Adolf Galland, with whom he had very close relationship. General Galland flew planes ranging from the Focke Wulf Fw-44 to the Me-262 jet. Trevor provided us with interesting and little known information on General Galland's career as a result of his close relationship with the General. It was a very interesting talk
Our April speaker will be of our own, Baron Ed von Gilroy. Ed and his wife Olga are consulting gerontologists with capabilities to resolve issues of a personal or professional nature. They are involved in all areas of elder care consulting and hands on management. Ed will speak to us about his experiences as part of the 388th Bomber Group (H), Eighth Air Force. Specifically he will tell us about Mission No.76, the first bombing mission to reach Berlin … something the Hitler had promised would never happen!



388th Pilot 388th Patch 388th in the air
The 388th furnished an A Group and the lead and low level squadrons of a B Group, which was completed by the 452nd Bomb Group. The assignment was to strike a Bosch Electrical equipment factory in the Southwestern portion of Berlin. In all 504 B-17s and 226 B-24s were dispatched. Of these 474 Fortresses and 198 Liberators attacked German targets dropping 1199 tons of G.P. and 450 tons of IB. We certainly look forward to Baron Ed von Gilroy's presentation!
Please keep an eye out for interesting speakers ... Staffel Baron Sandy von Freidfeld, in charge of speaker procurement always needs your help. Please get your ideas on speakers to Sandy at Sandjol@aol.com
We look forward to seeing you next Friday, April 7th at the Elks Club. Drinks and hanger talk any time after 11AM and lunch at noon. The choices for meals will be Filet of Sole, Chicken Poulard (Chicken Breast in Sauce), and the ever famous Hot Roast Beef Sandwich. I know we will all look forward to hearing Ed's very interesting talk! See you Friday the 3rd of March!
Staffel Baron Ted von Stinis &
Staffel Baron Dick von McKay

****************************************************************
About the Red Barons
The Red Barons are a group of individuals who are military. aviation and aerospace enthusiasts that meet monthly to have lunch and swap stories, and hanger talk about aviation. The group consists of people from all walks of life and varied occupations with one thing in common: a Love of all of the above. We have men from every imaginable background: aeroapace engineers, teachers, airline pilots, doctors, retired folks, and even a U-Boat Engineering Officerfrom World War II. The group has no dues, no rules, no bosses, but has a whole lot of fun every time we get together. The meeting agenda always includes a speaker the audience is guaranteed to enjoy. The speakerts inlude World War II fighter pilots, U2 and Blackbird pilots, Blimp pilots, aircraft manufacturer's owners and reps, POWs, owners of unusual aircraft, and many others, all of whom have fascinating tales to tell. The only requirement for membership is to be genuinely interested in aviation, aerospace, and military history and to attend three meetings as a guest of one of our members, after which you will be given a plaque of membership and encouraged to wear our distinctive Red Baron Red Blazer.
The History and origin of the Red Barons
The Red Barons was founded in 1962 by Eugene S. Kropf who graduated from Parks College of St. Louis University in 1940. After graduating from Parks Mr. Kropf was primary pilot instructor in the US Army Air Corps training pilots for World War II. In 1945 he became the first Chairman of the Aeronautical Adminitration Dept. at Parks and later served as assistant to the dean and Director of the college's first flight program He later became a college dean and head of the college's flight program. Mr. Kropf joined the FAA in 1957 where he remained untill he retired in 1977. In 1962 he co-founded the "Bier Uber Alles Luftwaffe", or "Beer over everything Air Force" , in which he was widely known as the Red Baron. The Red Barons are described as a fun loving group of aviation enthusiatists, and has some reported 24,000 members in 42 countries. Eugene Kropf passed away on September 10th, 1986 ... We thank him for founding a great organization!
... The preceeding information courtesy of Parks College ...
The Red Baron Membership Certificate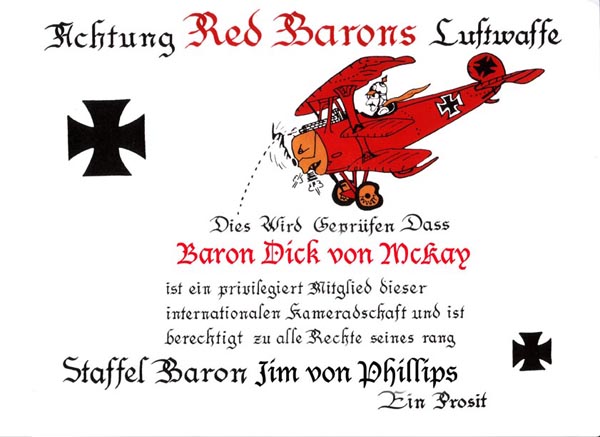 A few of our recent Speakers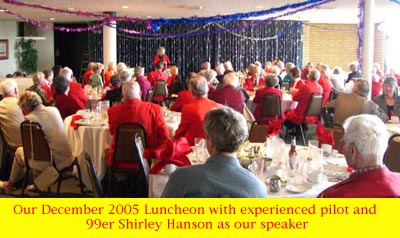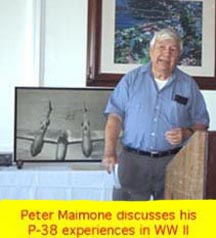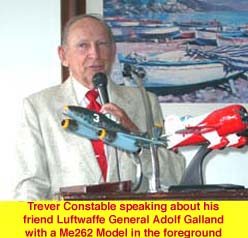 Our March 3rd, 2006 Speaker was Trevor Constable
Trevor devoted the majority of his talk to us to his close relationship with Luftwaffe pilot, ace and General, Adolf Galland, with whom he had a lengthy and close relationship. General Galland flew planes ranging from the Focke Wulf Fw-44 to the Me-262 jet. Trevor offered interesting and little known information on General Galland's career as a result of his close relationship with the General. It was a very interesting talk! If you want to learn a bit more about Adolf Galland, have a look at: http://members.aol.com/geobat66/galland/galland.htm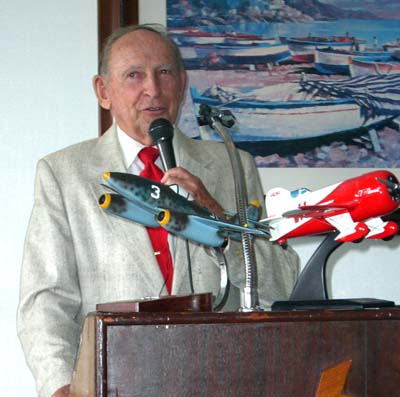 Our Speaker February 3rd, 2006 was Joe Monfiletto
Joe is an avid historian and collector or military history. His topic was be "It's your history, pass it on." Joe brought a photo album that belonged to one of the crew members of the Arizona, with many shots of the ship and its pre December 7th history ... it was at a garage sale. His continuing efforts are directed at getting those who have stories to tell to pass them on to be recorded before they are lost. The Arizona photo album is an example of history that we stand to lose every day! It was a great talk!
Our speaker, January 6th, 2006 was Peter Maimone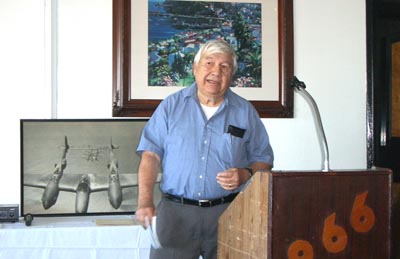 Peter Maimone gave us a good rendition of his training experiences during WWII which included his flights in PT-17, BT-13 , and AT-6 aircraft. He spoke of his checkouts in the P-39 and P-38 that were his assigned aircraft for combat. He told us of the famous raid to kill Yamamoto and how the P-38s were able to get the range. He also gave us a good idea of operations in Italy and how he spent a lot of time strafing enemy aircraft on the ground. The air war was essentially over and the Germans didn't have enough fuel to make daily raids. He told us about an Italian soldier staring at him from a bridge who he didn't go back to kill on the prepostion that it might have been one of his relatives. He also discussed some of the features of different P-38 models and talked about the "Glacier Girl ' retreival epoch. Peter was a very good speaker and had us capivated with his talk.